Interview on Sustainability by Hiswa Magazine
Hiswa Magazine interviewed Vaan about sustainability in yacht building and yacht design.
If you want to see the whole article (Dutch), you can also download a PDF of the article here >>
Vaan Yachts:
'Sustainability is not a sauce, it is our foundation'
Vaan Yachts builds sustainable catamarans: the vast majority of all parts are made of recycled or sustainable bio-based materials, from road signs to cork . According to co-founder and co-owner Igor Kluin, the yacht building industry is not yet a leader in sustainability: he advocates an objective yardstick for sustainable products.
Text: Lisette Vos
Co-founder Igor Kluin of Vaan Yachts sails into the Stockholm archipelago during this interview, where he delivers the first Vaan R5 to customers in the city. Kluin passes countless islands, from small and uninhabited to large with typical Swedish red houses, on the sustainable catamaran of almost 15 meters. The views are breathtaking. Yet the romance of the moment does not prevail with him. 'We have come a long way. It's exciting to deliver a boat to the customer. It's a hard world .'
Since founding Vaan Yachts in 2018, Kluin and his co-owner and wife Nienke van 't Klooster have sold 11 Vaan sustainable catamarans worldwide. Meanwhile, the company has started construction of the 5e . Right now, the first customer of Vaan Yachts is celebrating vacations on the very first Vaan R4. 'That sometimes causes a stomach ache. Our catamarans are not custom built. Sometimes a customer wants a different solution than we had thought of. Or we have overlooked something. Then we try to solve that as best we can,' Kluin says on deck of Vaan R5.
FIRST SKETCHES
Vacationing together with the children on a sailboat. With that idea the adventure began for Igor Kluin and Nienke van 't Klooster, in Mallorca. Kluin grew up on the water, sailing competitions from an early age. His wife was not much into sailing. When she saw a catamaran in the bay, it seemed like the solution: a stable boat with room for the kids. 'We immediately started making the first sketches. In our design we wanted to combine a few things. It really had to be a sailing boat, with a beautiful design, and sustainable. Sailing, style, sustainability.
THE GREEN BUSINESS
That Kluin wanted to build a sustainable catamaran was obvious. Sustainability is the common thread in his entrepreneurship. In 2010 he and several other companies founded De Groene Zaak, a lobbying club of now more than 200 sustainable companies, in diverse sectors (from energy to postal services). Kluin himself started his green business in 2006: Qurrent, supplier of sustainable energy. It earned him a spot in Trouw's Sustainable Top 100 in 2010. 'To be honest, those kinds of lists don't tell me much.'
ALL PARTS SUSTAINABLE
Sustainability is number one at Vaan Yachts. The drive of the catamaran is electric and the roof is covered with solar panels. Every part has to be made of the most sustainable materials possible. For example, the aluminum of the hull consists of discarded window frames, license plates and road signs. Instead of leather, the upholstery of the benches consists of recycled fabrics.
'Sustainability is not a sauce over the design, it is our foundation. That makes all choices more complex. Unless there is no other way, we use materials that are recycled and can be reused.'
A sailboat cannot do without sails. 'A sail must be able to support very high strength and not fall apart. On the contrary, a component that is recyclable must be able to be taken apart. So our sails are not sustainable. Not yet.' According to Kluin, suppliers play an important role in the transition to building sustainable boats. Entrepreneurs who develop sustainable parts that the market is not always waiting for are increasingly able to find Vaan Yachts.
Suppliers – for example of plates for interior construction – also offer enough sustainable options, according to Kluin. 'If we are at a trade fair, the suppliers offer dozens of options. Then we only have to see the sustainable products. That sometimes causes surprise. But we think that with eight options we already have enough choice.'
The yacht building industry is not a frontrunner in sustainability, according to Kluin, although he feels that the range on offer at the international METS fair in Amsterdam is growing. Whether boat builders want it or not: sustainability is going to play an increasing role. Kluin: "You can let it happen or you can consciously choose it. I think you have to consciously choose sustainability. Regulations are getting stricter and stricter. At some point you have to take measures because the government prescribes them. And then you're not adequately prepared for it.'
OBJECTIVE YARDSTICK
Kluin argues for a think tank, including entrepreneurs from the sector, to develop an objective yardstick for sustainable products. 'In yacht building, as in other sectors, you see a lot of greenwashing. I don't mind that in itself. That is a phase in the transition we are going through. Everyone is more aware of the importance of sustainability, which is already a step in the right direction. At the same time, it must be clear on the market which products are or are not really sustainable.'
Kluin is proud that Vaan Yachts won the HISWA Innovation Award in 2022. According to him, the award is an incentive for the industry to become more sustainable. 'We offer perspective with our catamaran. We show that it can be done. A beautiful product and sustainable. When Qurrent was founded, we only had a small team and not many customers. But we also showed then that there was a sustainable alternative for the supply of energy. I think that is very important. I hope that our sparks spread. And that together we light the fire in the sector.'
TRAIN STARTS MOVING
At least Vaan Yachts – started with its owners' own money – is well on course. Recently, the company took over yacht yard Yagra Services in Hellevoetsluis. Igor Kluin and Nienke van 't Klooster have room to improve the production process of de Vaan Yachts. 'The train is running. We have ambitions to grow further. If we are going to build more boats, we have to build smarter. That's our next step.'
But first, deliver the Vaan R5 to the customer in Stockholm. Still a nice moment.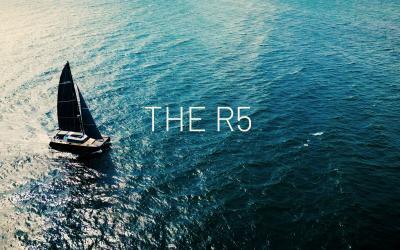 Recently the Vaan R5 was sailing the Baltic sea and we were able to film some of it, even in some rougher 38kn/8bft of wind. Luckily we also found some sunshine along the way:)
read more